Confirming a Strike on Jabalia Refugee Camp as Israeli Forces Approach Gaza City
31.10.2023, 22:55,
Разное
Подписаться на Telegram-канал
Подписаться в Google News
Поддержать в Patreon
A strike on Jabalia Refugee Camp north of Gaza City killed dozens on Tuesday, as the Israel Defense Forces (IDF) continued advancing into the Gaza Strip. Video and satellite analysis by Bellingcat has confirmed a strike on the Jabalia Refugee Camp, and identified several points where IDF forces have gathered on the outskirts of Gaza's largest city.
Jabalia Strike Highlights Concerns of Civilian Harm
Reports began to appear online about 2:30 pm local time that an airstrike had hit the Jabalia Refugee Camp in the northern Gaza Strip.
Videos and images have also appeared in various Telegram channels showing widespread destruction as well as injured and dead civilians at a location that Bellingcat was able to geolocate to the following coordinates in Jabalia, here: 31.53271, 34.49815.
Three distinct buildings in the background of a photograph taken by Palestinian photojournalist Anas al-Sharif match up with satellite imagery taken on October 30.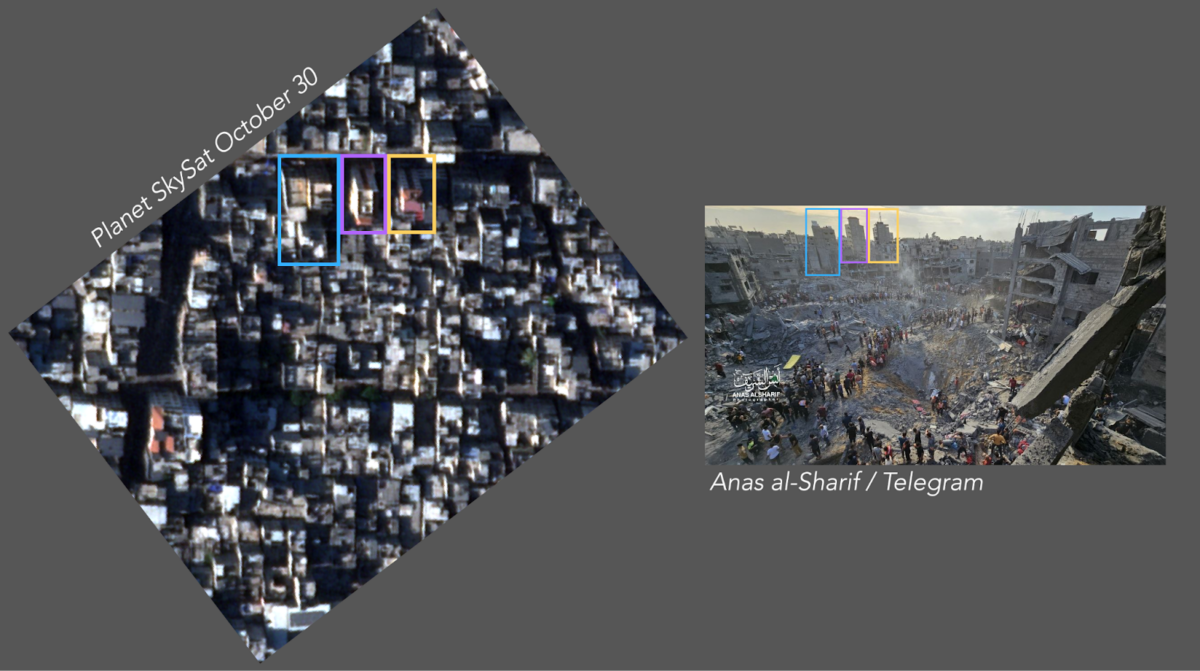 Left: Image from Planet Labs showing the Jabalia area of Gaza. Note the three buildings in the blue, purple, and yellow boxes. Right: An image from the site of the airstrike. Note the same buildings in the blue, purple, and yellow boxes (Source: Planet Labs/Anas Al-Sharif/Telegram)
A Reuters live stream filming towards Jabalia and Gaza City appears to have captured a large explosion at approximately 2:24pm local time, consistent with the earliest reports of the strike on Jabalia.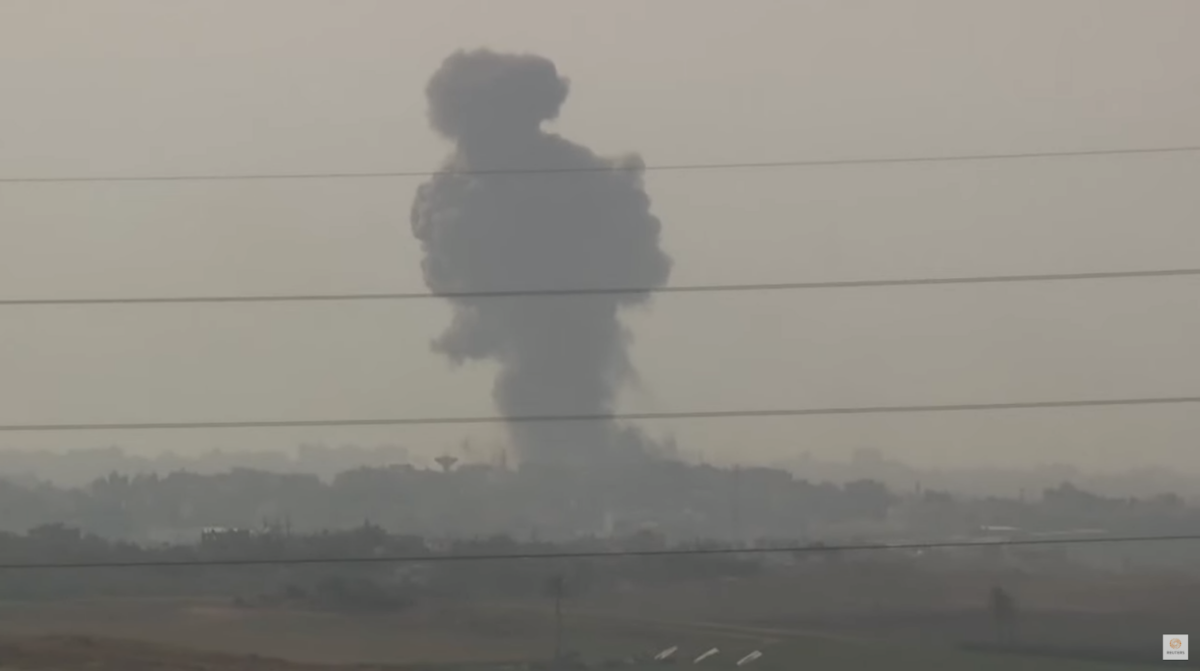 A still from a Reuters live stream taken at 2:24pm, local time (Source: Reuters)
By using a technique called intersection, where known points in a view are aligned, we can identify that this explosion matches exactly with the location of the impact at Jabalia.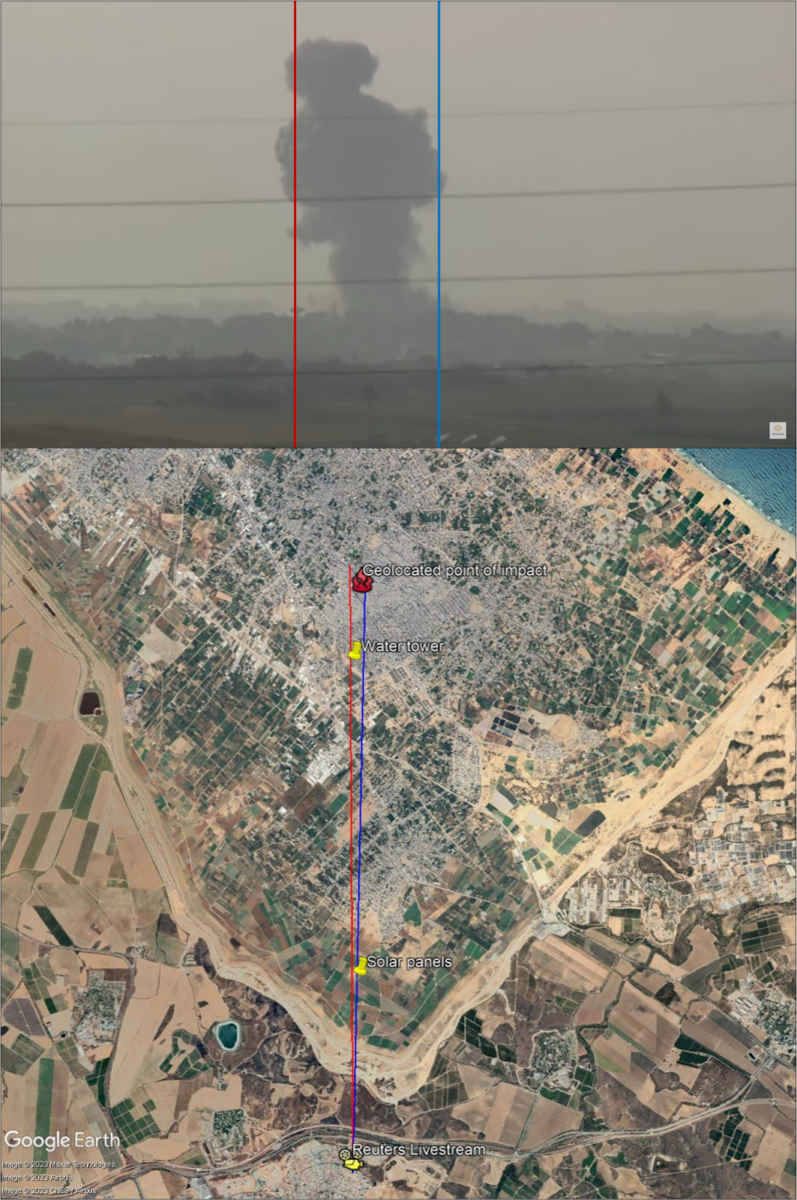 Top: Reuters Livestream (Source: Reuters) Bottom: Image showing alignment used for identification of point of impact (Source: Google/Maxar Technologies/Airbus/CNES)
At least 40 people were reportedly killed in the strike.
The IDF confirmed an airstrike was carried out on Jabalia, stating, "The strike damaged Hamas's command and control in the area, as well as its ability to directly military activity against IDF soldiers operating throughout the Gaza Strip."
Asked about civilian casualties on CNN, International IDF spokesman Lt Col Richard Hecht reiterated calls for civilians to "move south" and said the IDF is "doing everything we can to minimise" civilian casualties.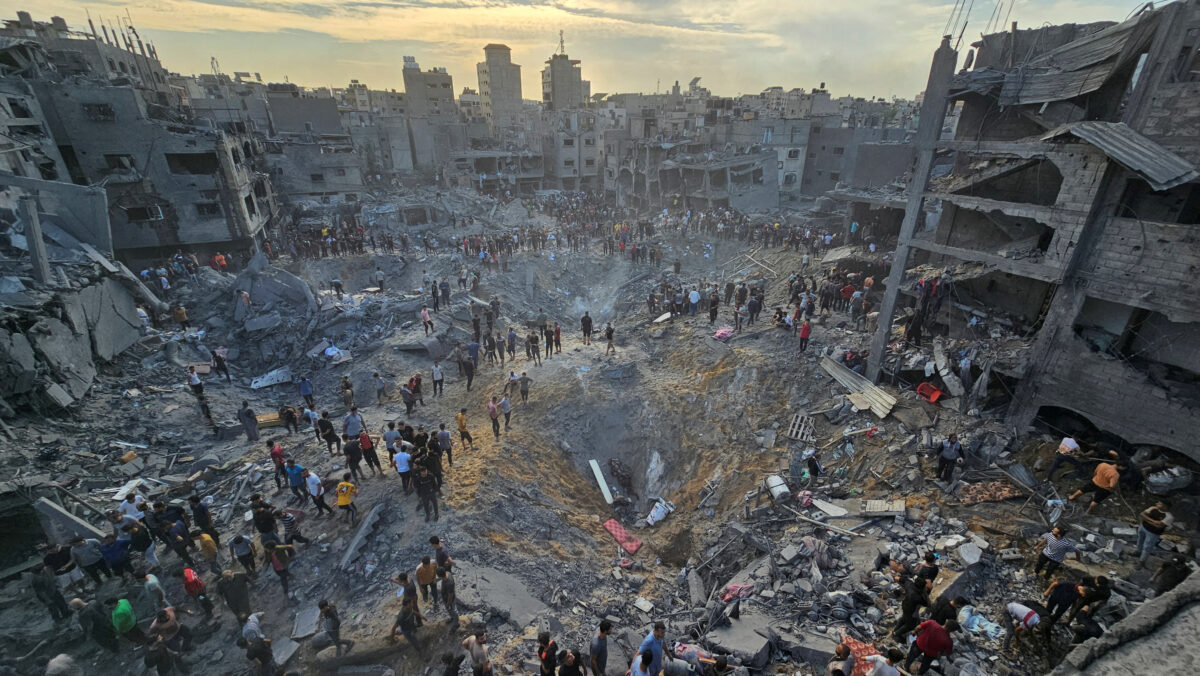 Palestinians search for casualties at the site of Israeli strikes on houses in Jabalia refugee camp in the northern Gaza Strip, October 31, 2023 (Source: REUTERS/Anas al-Shareef)
The UN has urged Israel to reconsider its evacuation order with both humanitarian and medical organisations working in Gaza outlining that it is not possible for all civilians in northern Gaza to evacuate south, as Israel has repeatedly ordered them to do.
The Jabalia Refugee Camp has been hit by multiple airstrikes in the past month, resulting in scores of casualties. An October 9 airstrike killed 60, an October 19 airstrike killed 18, and an October 22 airstrike killed 30.
"More than two million people, with nowhere safe to go, are being denied the essentials for life — food, water, shelter and medical care — while being subjected to relentless bombardment," said UN Secretary-General António Guterres on October 29, two days prior to the latest strike. "I urge all those with responsibility to step back from the brink."
In Gaza City, civilians have also been struggling to access food and basic necessities. A video posted on TikTok on Sunday, October 29 showed a long queue at a bakery in Gaza. Bellingcat confirmed the location of the bakery as the New Sharq Bakery in the Jabalia refugee camp (31.5356, 34.5038).
Attack on a Vehicle on Salah al-Din Road
Separately, a video posted Monday morning on Instagram by Youssef Al Saifi, a Palestinian journalist, appears to show an IDF tank firing at a station wagon on Salah al-Din road. Salah al-Din had previously been identified by the IDF as a safe evacuation route for civilians within Gaza City.
The video was geolocated by Benjamin den Braber, a Senior Investigator at the Centre for Information Resilience, to these coordinates: (31.470545, 34.432676) and independently verified by Bellingcat. The vehicle is travelling north on Salah al-Din road before encountering an IDF tank and an IDF armoured bulldozer. As the vehicle attempts a three-point turn, the tank fires at it.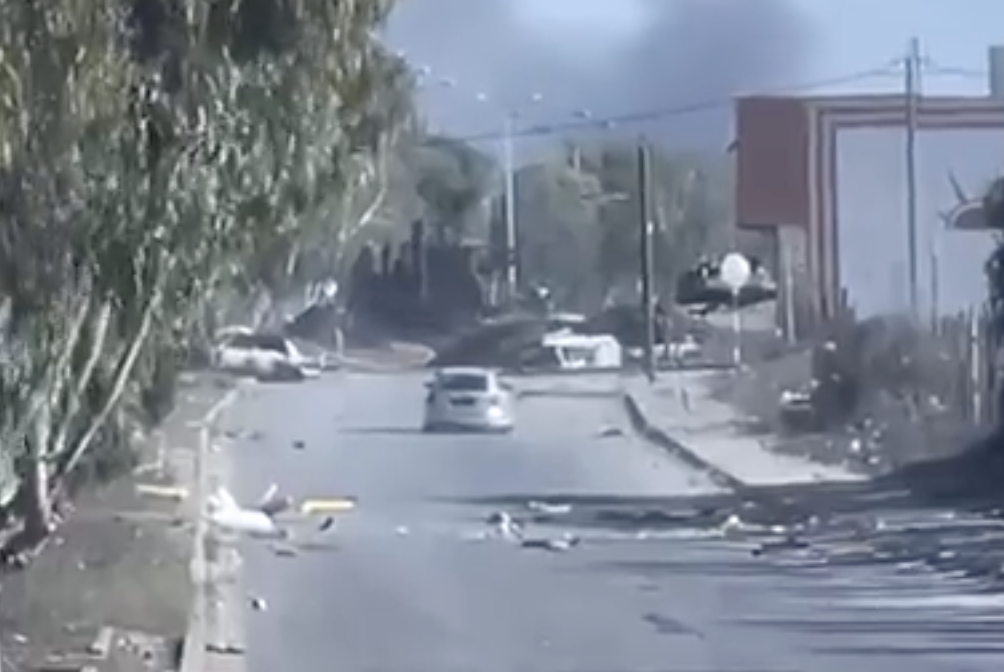 Screenshot from a video showing an IDF tank (right) seconds before it opened fire on a vehicle (centre). The vehicle was in the process of completing a three-point turn when it was hit. Additionally, an IDF armoured bulldozer is visible on the left (Source: Youssef Al Saifi, Instagram).
The armoured bulldozer in the video appears to be building a roadblock across Salah al-Din road. Bellingcat contacted the IDF Press Office, but they did not respond to a request for comment prior to publication. An IDF spokesperson was previously asked specifically about the tanks at a briefing and declined to give more information.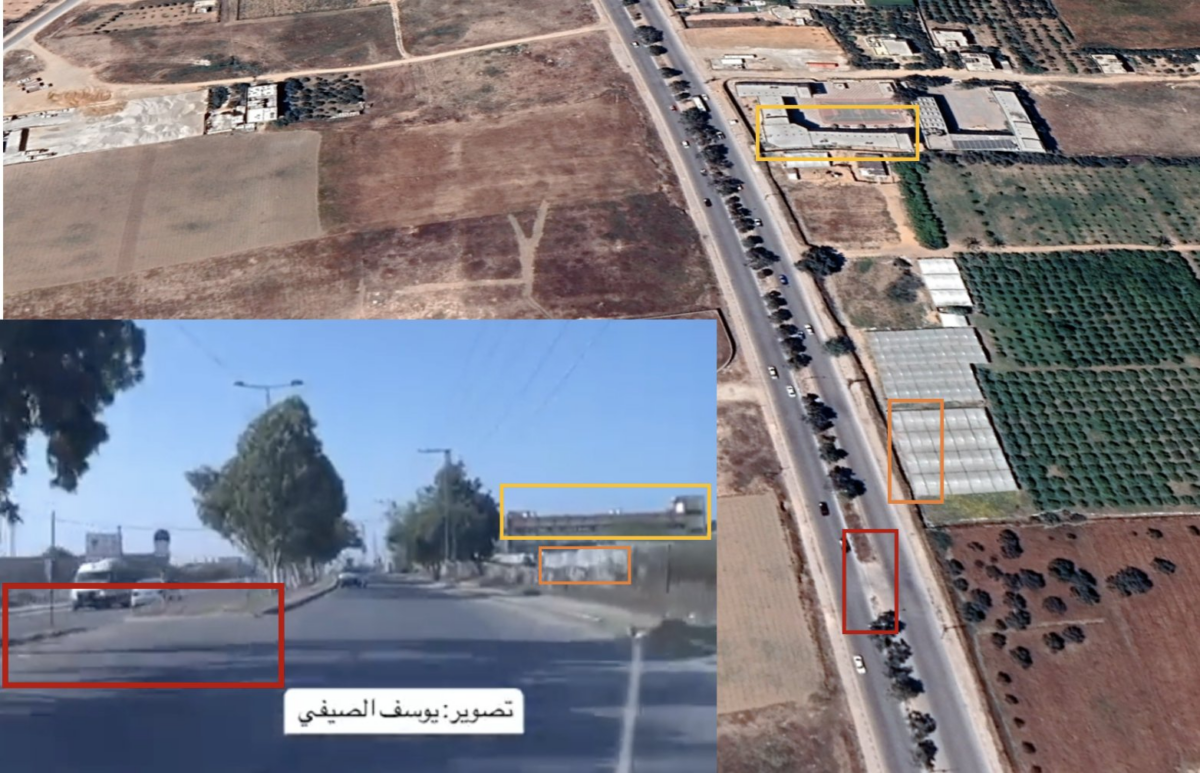 A geolocation of the video from Salah al-Din road, carried out by @hengenahm. The video was geolocated to these coordinates: 31.470545, 34.432676 (Source: Benjamin den Braber, X)
Satellite Imagery Reveals Beginnings of a Ground Invasion
The vehicle attack and camp strike follow an increasing presence of IDF ground troops in the Gaza Strip, which first entered the territory on October 27, according to Israeli Prime Minister Benjamin Netanyahu. Since then, satellite imagery shows the IDF have entered from at least three places: two along the territory's northern border, and one to the southeast of Gaza City.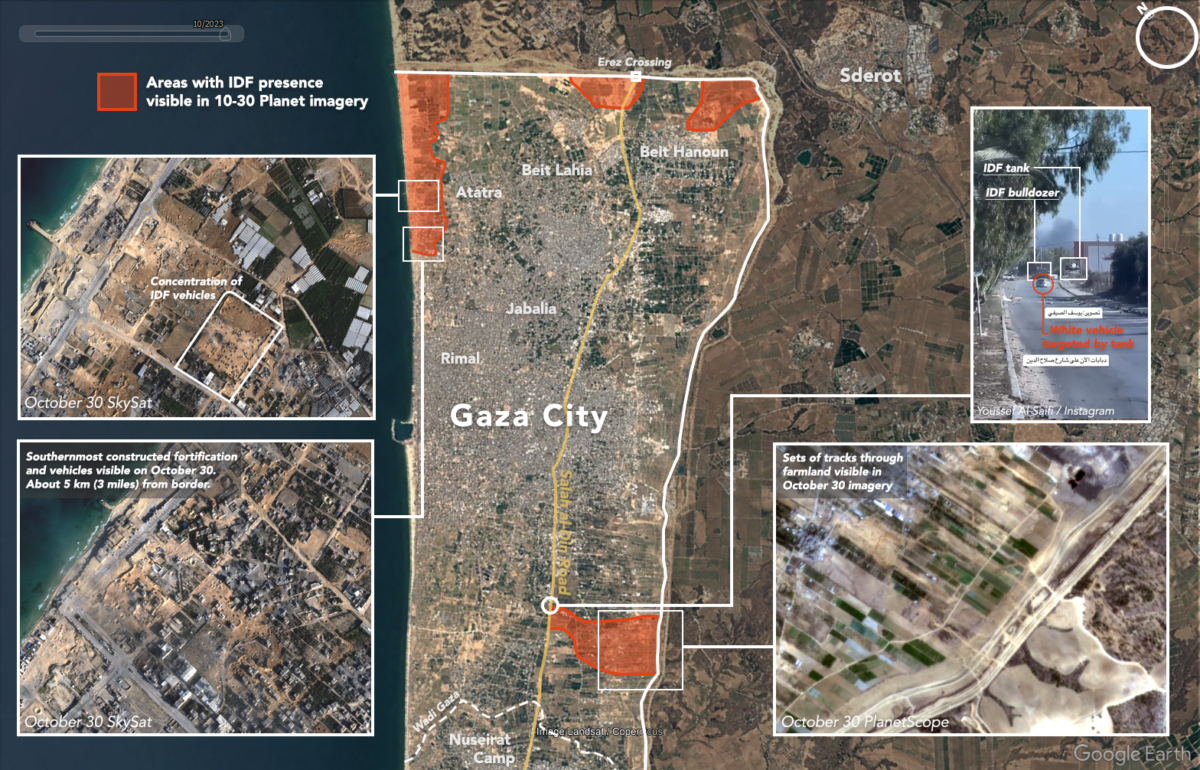 The image above shows the location of Skysat satellite imagery (left, and bottom right) taken of the Gaza Strip on October 30. The image also shows the location of a video showing an IDF tank opening fire on a passenger vehicle (Source: Jake Godin/Scripps News/Planet Labs PBC. Recent satellite imagery © 2023 Planet Labs PBC. All Rights Reserved. Republished with permission)
Satellite imagery taken on October 30 reveals more than 50 armoured military vehicles and extensive demolition in the Al-Karama area, located approximately three to five kilometres southwest of the Gaza border.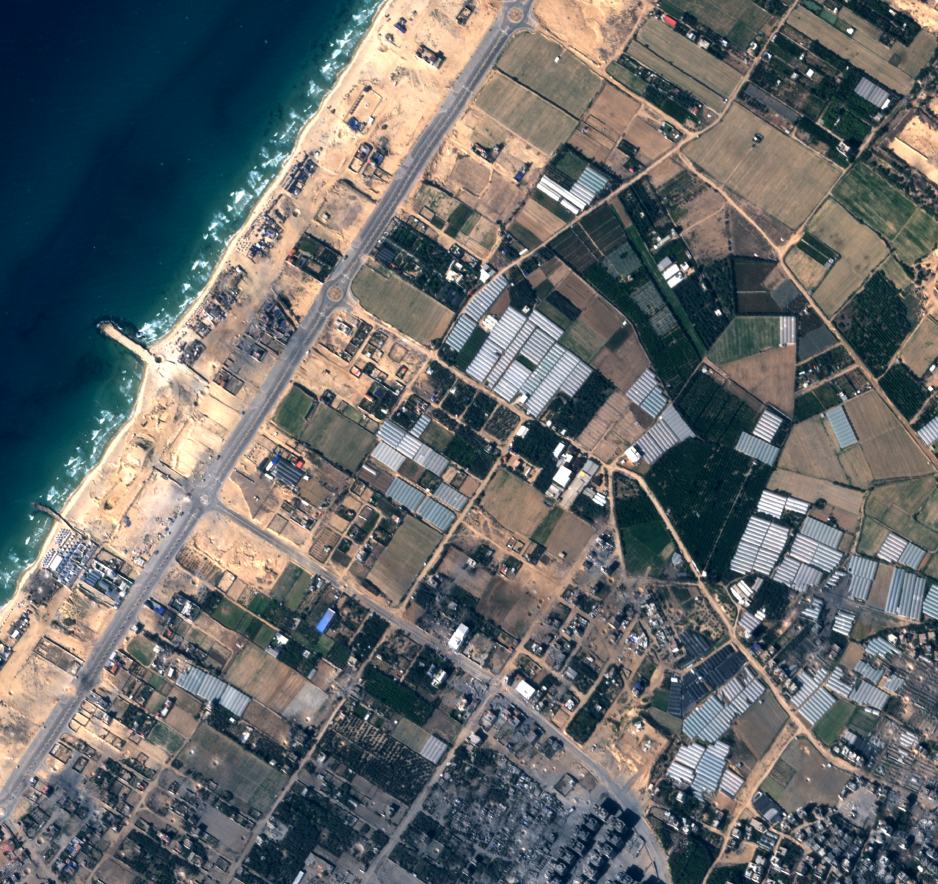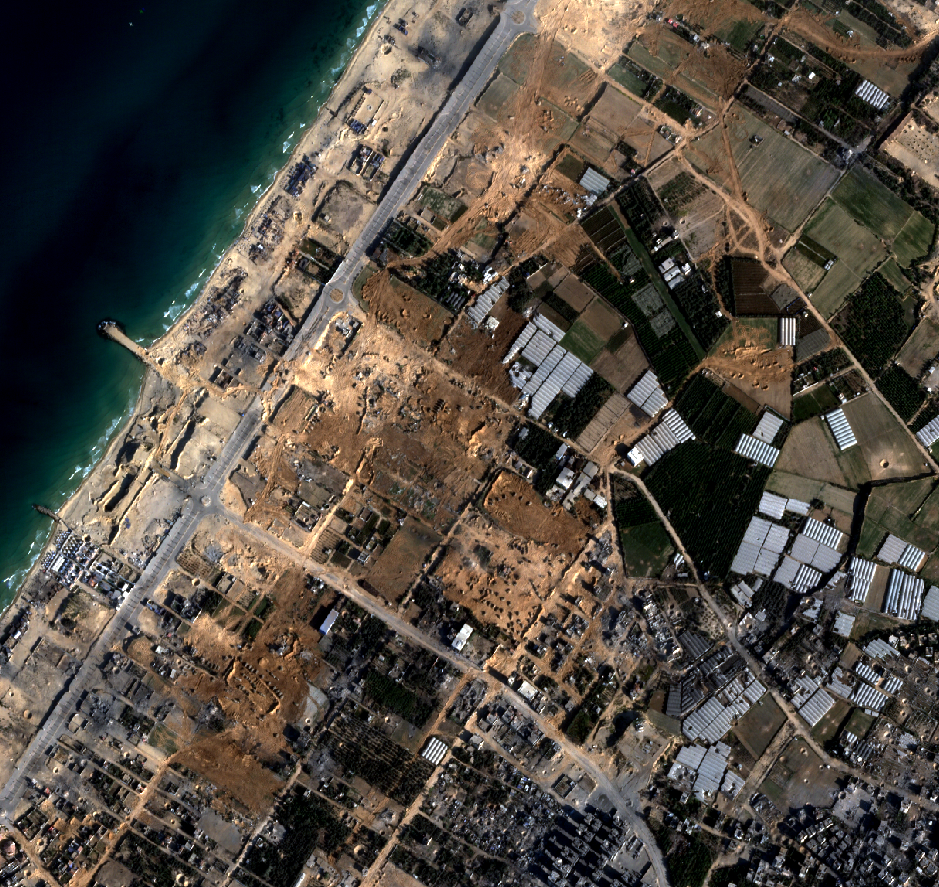 Left: A satellite image of Al-Karama, Gaza, from October 21, 2023. Right: A satellite image of the same area from October 30, 2023 (Source: Planet Labs)
Israel's ground movements have come more slowly than expected. Military specialists told Reuters on Monday that the IDF is possibly proceeding this way to draw Hamas fighters out of tunnels and densely populated areas, while also allowing for more time to negotiate for the release of hostages taken by militants during the October 7 attacks. Other reports have noted some of Israel's allies, including the US, have advised the country to delay a full invasion.
Approaching Gaza from the North and South
Starting on Sunday, October 29, images began to appear on social media showing IDF vehicles and troops in northern Gaza.
A video showed IDF soldiers raising an Israeli flag over a building geolocated inside Gaza approximately three kilometres south of the border. The geolocation was shared on X by the Geoconfirmed account, and independently confirmed by Bellingcat.
As Israeli soldiers and vehicles have entered Gaza, some of their activities are visible on satellite imagery.
One neighbourhood that appears to have been heavily bombed, prior to the ground invasion, was full of IDF vehicles as of October 30.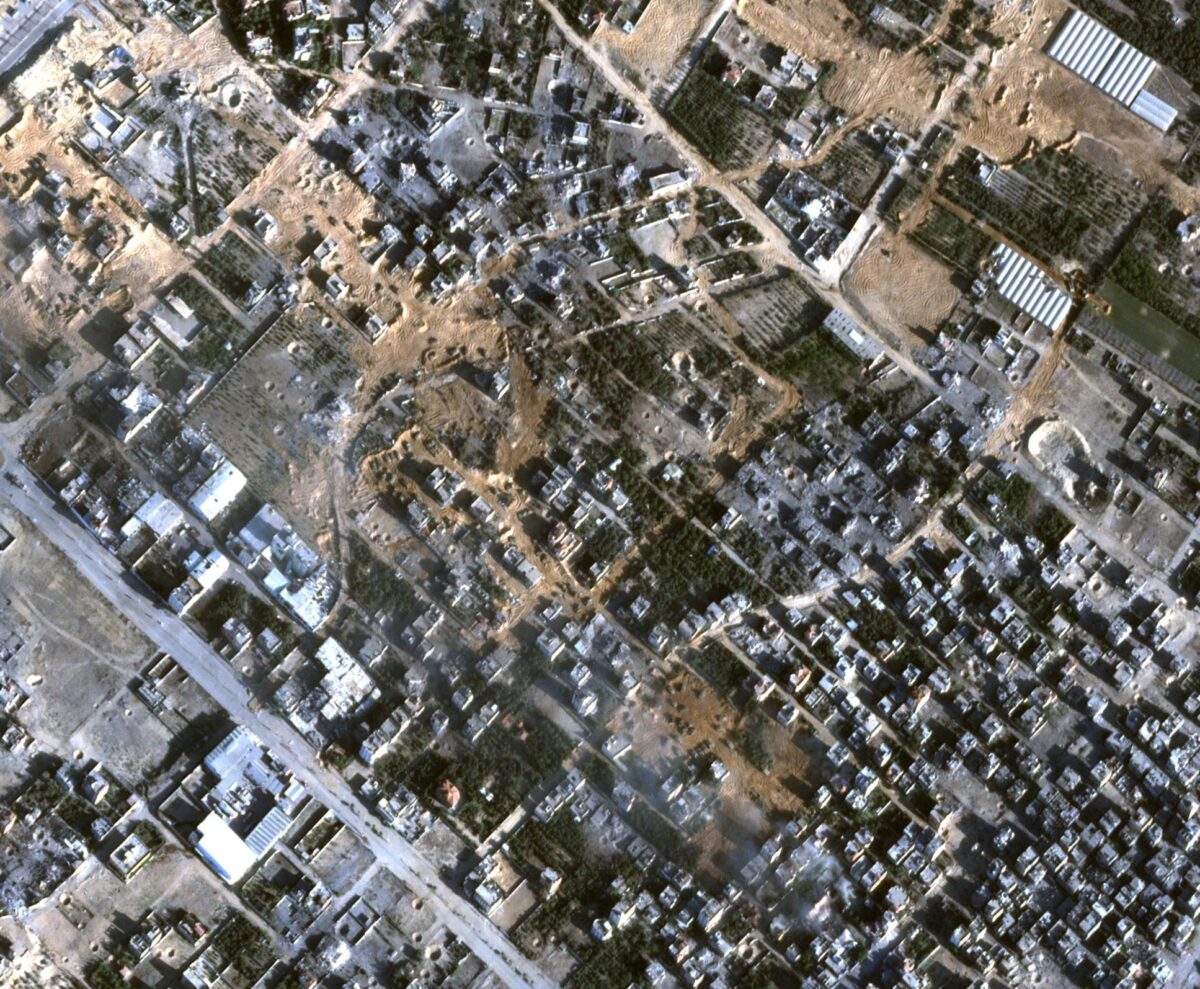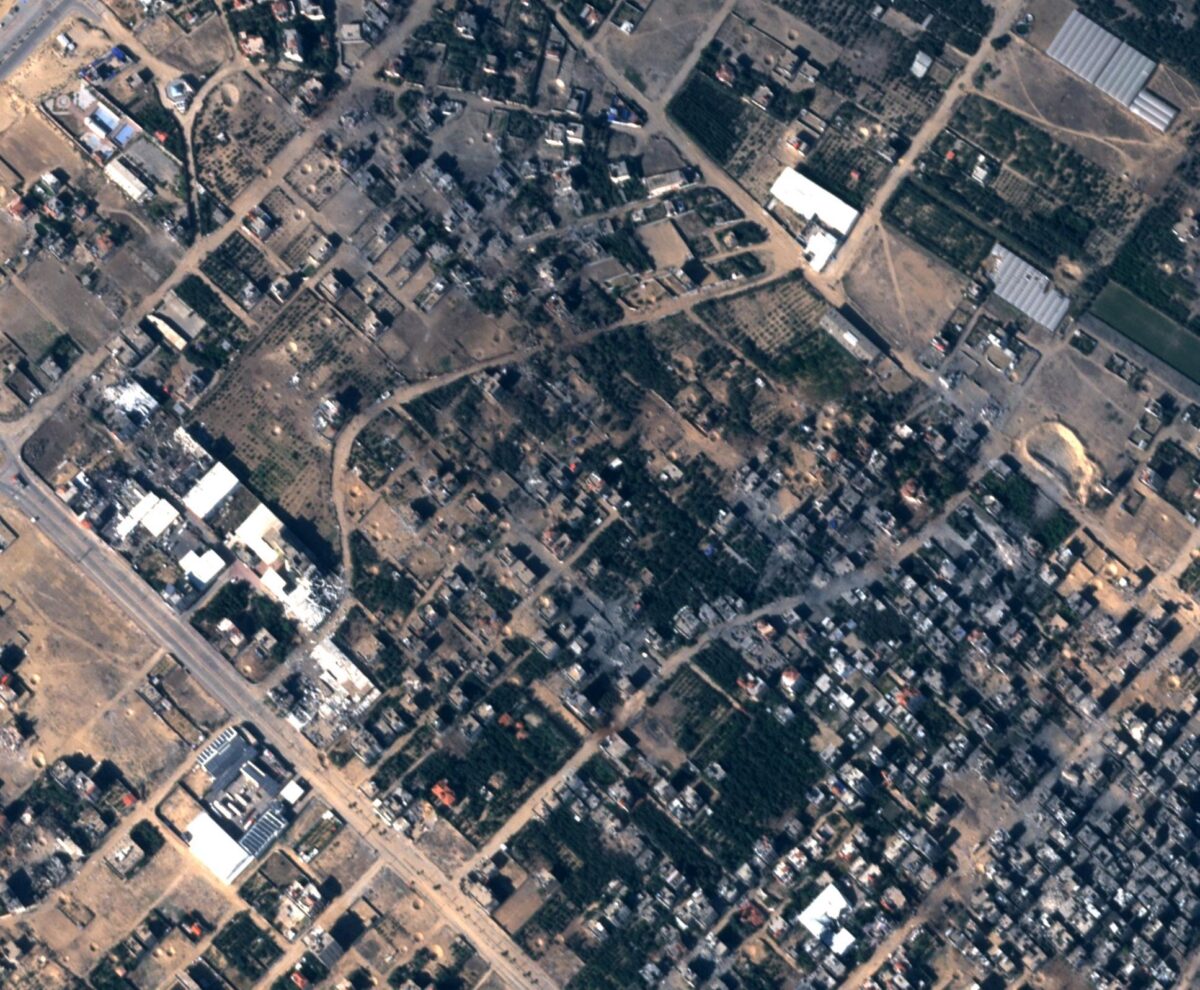 Left: Satellite image from October 30 showing IDF vehicles in Gaza City. Right: Satellite image from October 21 showing the same area. Notice the craters throughout the image and the destroyed and scorched buildings (Source: Planet Labs)
Low-resolution satellite imagery reveals at least three major entry points for Israeli ground troops: one along Gaza's northern border near the Mediterranean Sea, one near the Erez border crossing north of Beit Hanoun, and one southeast of Gaza City.
Along Gaza's northern border, imagery from October 26 showed vehicle tracks approximately 1km from the Mediterranean Sea. These tracks were joined on October 28 by a second set of tracks, closer to the sea, stretching 3km south. Satellite imagery on October 30 showed a third set of tracks, 7km to the east near the Erez border crossing towards Beit Hanoun.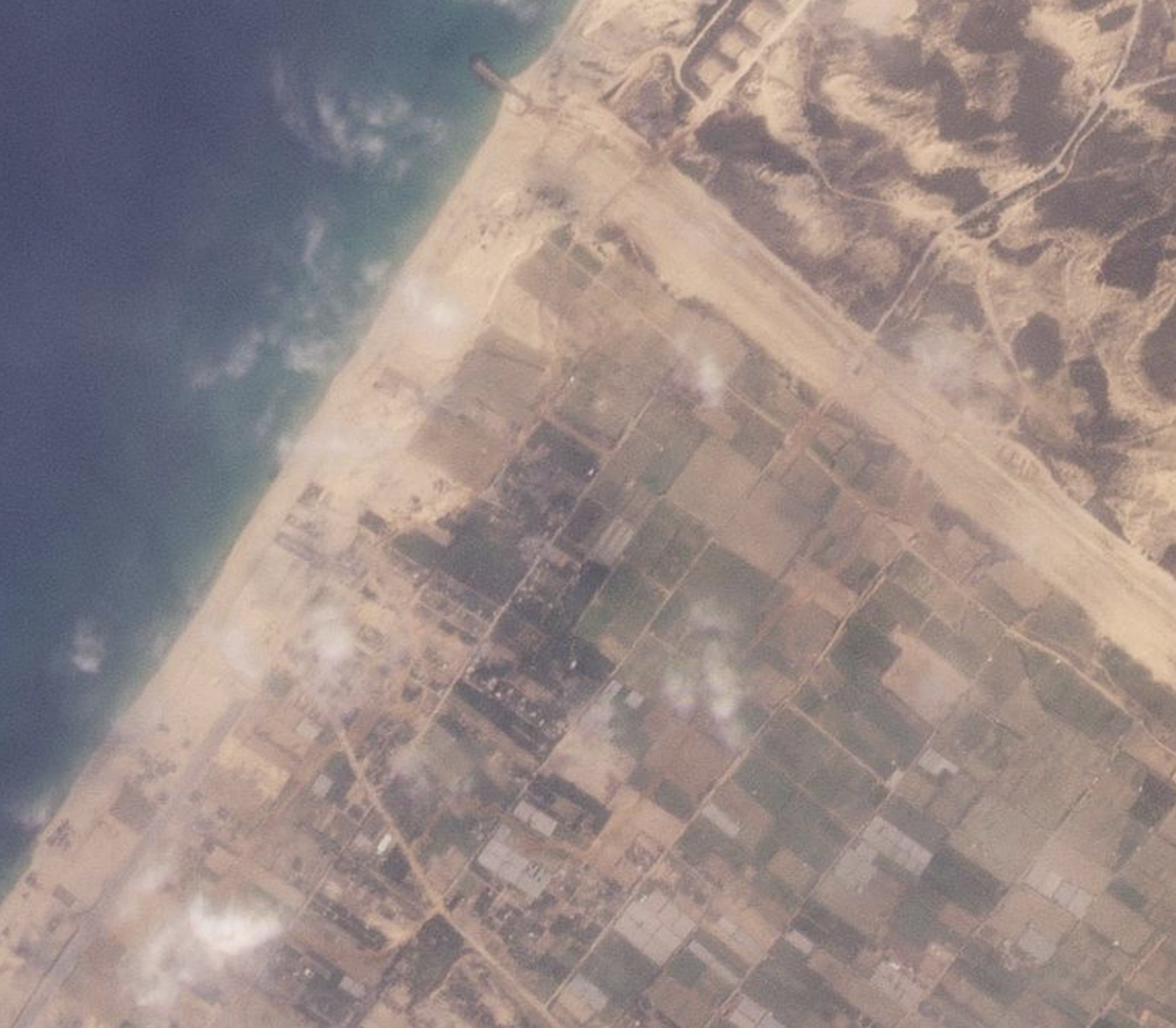 Satellite image from October 28, 2023 showing the border between Israel and Gaza at As-Siafa. Note the tracks crossing the border, particularly the three strips close to the sea at the centre-right of the image (Source: Planet Labs)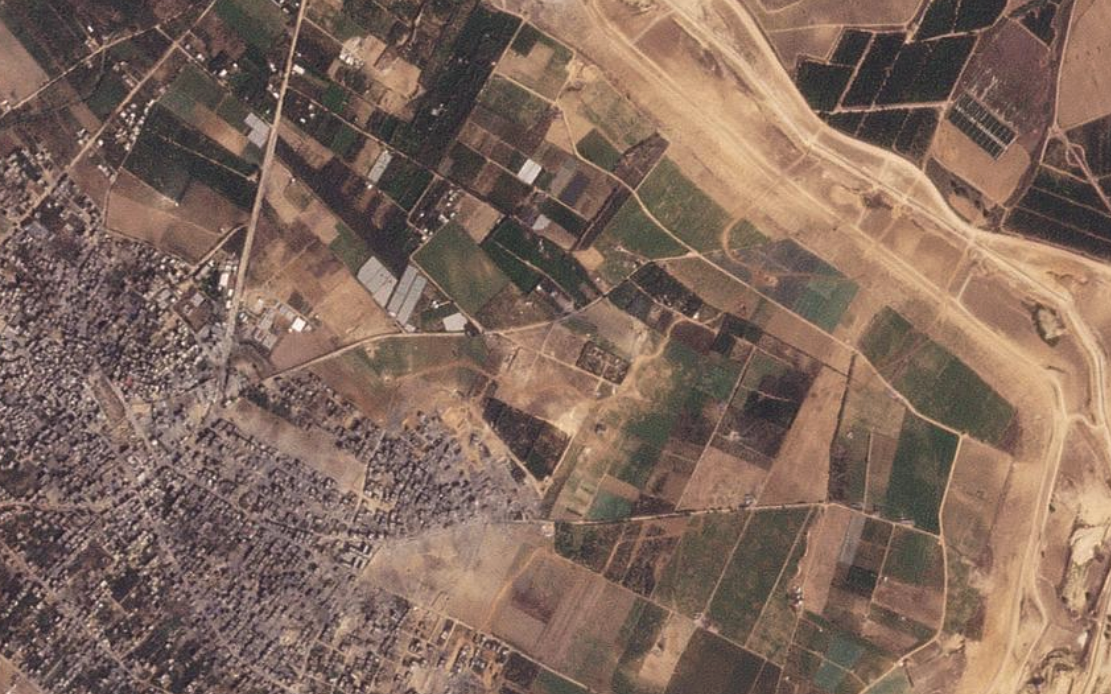 Satellite image from October 30 showing the border between Gaza and Israel. Beit Hanoun is visible in the left of the image. Note the tracks crossing the border (Source: Planet Labs)
Additional tracks can be seen south-southeast of Gaza City and north of Wadi Gaza in October 28 imagery.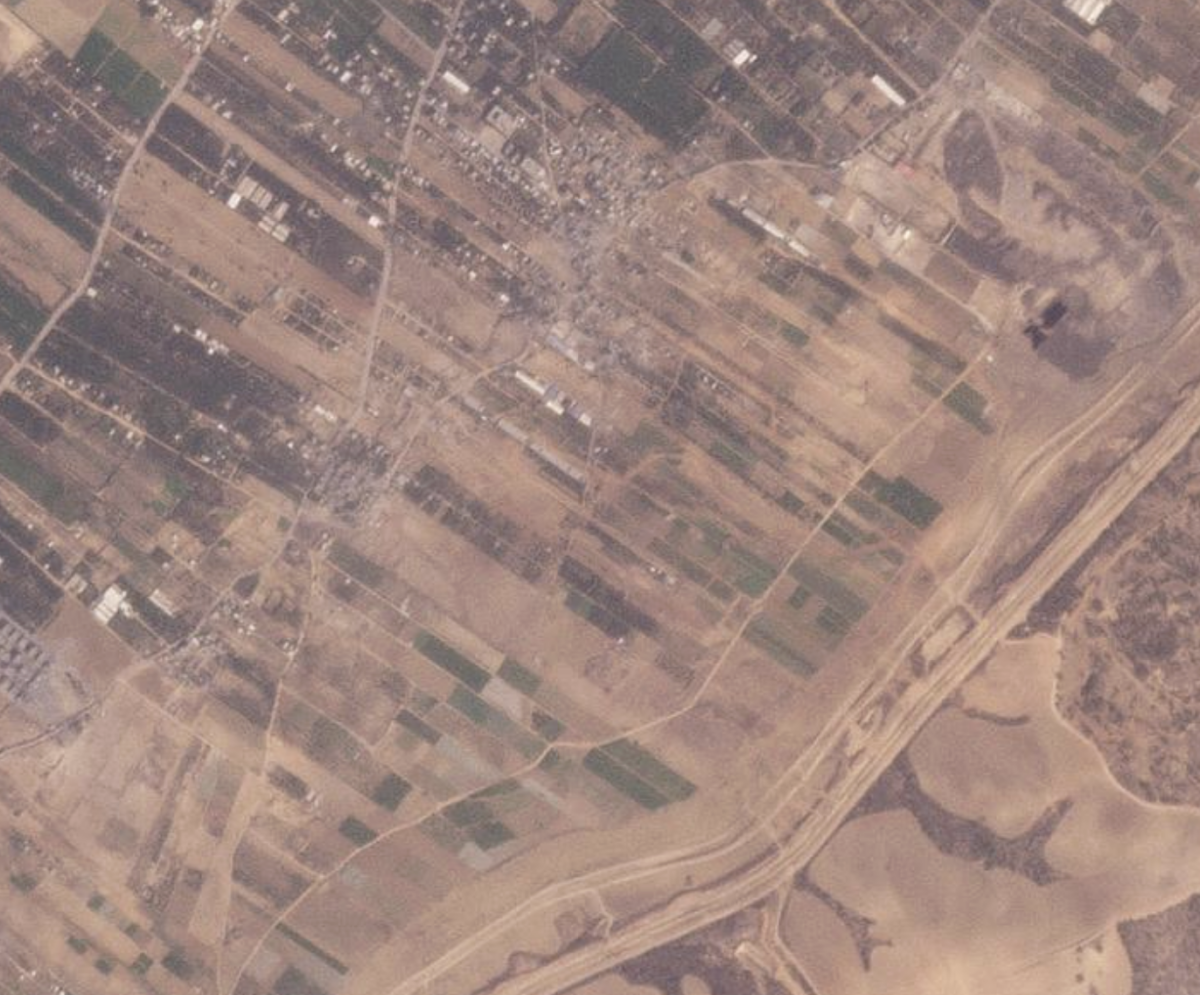 Satellite image from October 28 showing the border between Gaza and Israel near Juhor ad Dik. Note the tracks crossing the border (Source: Planet Labs)
The latest footage and satellite imagery shows the situation in Gaza continues to deteriorate for civilians, particularly for those located in the northern part of the territory, which remains the focus of Israeli strikes and now the ground invasion.
Bellingcat will continue to monitor the latest war in Israel-Palestine with the aim of documenting civilian harm.
Logan Williams, Jake Godin, Annique Mossou, Nick Waters, Wim Zwijnenburg and Giancarlo Fiorella contributed research.
Bellingcat is a non-profit and the ability to carry out our work is dependent on the kind support of individual donors. If you would like to support our work, you can do so here. You can also subscribe to our Patreon channel here. Subscribe to our Newsletter and follow us on Instagram here, X here and Mastodon here.
Source: Bellingcat*
*СМИ, выполняющее в России функции иностранного агента и признано нежелательной организацией