NTSB Chair Contradicts Posts That Wrongly Claim Trump to Blame for Ohio Train Wreck
01.03.2023, 3:15,
Разное
Подписаться на Telegram-канал
Подписаться в Google News
Поддержать в Patreon
Quick Take
The National Transportation Safety Board's chair said an Obama-era rule the Trump administration nixed would not have prevented the derailment of a train in Ohio, as some partisan commentators inaccurately claim. The rule requiring a new electronic braking system for certain trains carrying hazardous cargo did not apply to that train.
Full Story
Since a Norfolk Southern train carrying toxic materials derailed and caught fire in East Palestine, Ohio, on Feb. 3, some social media commentators have wrongly blamed the accident on Donald Trump, whose administration eliminated several rail industry regulations.
"Former President Donald Trump has turned a disaster that he helped to create into a political win for him," said David Doel, a Canadian news and politics commentator, in a Facebook video that has received roughly 16,000 views since it was posted Feb. 23. Doel proceeded to show clips of Trump being greeted warmly by residents of the town when he visited on Feb. 22.
"To be clear about how Trump is to blame, or at least partially to blame, for what happened: The U.S. Department of Transportation under Donald Trump … back in December 2017 … announced intent to repeal electronically controlled pneumatic brake mandate," Doel said. "These are the ECP brakes that would have been on this train in East Palestine that derailed if it weren't for this deregulation."
Another popular Facebook post, from progressive politics commentator Brian Tyler Cohen, included a graphic that says, "Legislation was passed under President Obama that made it a legal requirement for trains carrying hazardous flammable materials to have ECP brakes, but this was rescinded in 2017 by the Trump administration."
Both social media posts were referring to a 2015 Obama administration rule — not legislation — that would have required certain long trains transporting a particular class of flammable liquids to have electronically controlled pneumatic brakes. An ECP brake system uses electronic signals to activate the brakes on all train cars simultaneously, potentially allowing the train to stop faster than trains that use conventional air brakes, which operate sequentially from the front of the train to the rear.
The rail and oil industries lobbied against the rule. In 2018, during the Trump administration, after a congressionally mandated review of the braking requirement, the Department of Transportation repealed the rule. Agencies within the department "determined that the expected benefits, including safety benefits, of implementing ECP brake system requirements do not exceed the associated costs of equipping tank cars with ECP brake systems, and therefore are not economically justified."
But that does not mean fault for the derailment in East Palestine lies with Trump.
Brake Rule Would Not Have Applied
In a Feb. 16 Twitter thread, the chair of the federally independent National Transportation Safety Board, Jennifer Homendy, explained that the Obama rule the Trump administration rolled back would not have applied to that particular Norfolk Southern train.
"Some are saying the ECP (electronically controlled pneumatic) brake rule, if implemented, would've prevented this derailment. FALSE," she wrote. "The ECP braking rule would've applied ONLY to HIGH HAZARD FLAMMABLE TRAINS. The train that derailed in East Palestine was a MIXED FREIGHT TRAIN containing only 3 placarded Class 3 flammable liquids cars."
"This means even if the rule had gone into effect, this train wouldn't have had ECP brakes," Homendy said.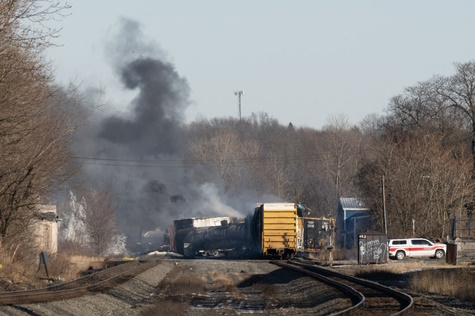 Smoke rises from a derailed cargo train in East Palestine, Ohio, on Feb. 4, 2023. Photo by Dustin Franz/AFP via Getty Images
In his Facebook video arguing that Trump was at least "partially" responsible, Doel also cited a Newsweek article that included reporting from the Lever, a news site that quoted Steven Ditmeyer, a former Federal Railroad Administration official, saying: "Would ECP brakes have reduced the severity of this accident? Yes."
Perhaps, but in a Feb. 23 CNN interview, Homendy said that while ECP brakes on trains would likely improve safety, they would not have prevented this particular derailment. It was most likely caused by an overheated wheel bearing on one of the freight cars, according to a preliminary NTSB report issued the same day.
"The wheel bearing failed on car No. 23, so even with ECP breaks, the derailment would have occurred, the fire would have ensued, and the five vinyl chloride tank cars would still have to be vented and burned," she said. (Days after the derailment, officials decided to intentionally release the highly flammable vinyl chloride and burn it because of the risk of an explosion.)
And when CNN's Jake Tapper asked if any other rule change could have prevented the accident, Homendy said that is still being determined.
"It's too early to tell," she said. "In our analysis phase of the investigation, we'll look at just that. We'll look at what could have prevented this terrible tragedy. And it could be regulation changes. It could be recommendations to Norfolk Southern, to the Department of Transportation, or to rail car manufacturers, or to emergency responders."
Homendy said at the end of its investigation, the NTSB, which does not have regulatory authority, will make safety recommendations that either Congress or the Biden administration would have to implement.
Смотреть комментарии → Комментариев нет