Online Videos Share Fabricated Story About FEMA and Marines on Maui
26.08.2023, 0:30,
Разное
Подписаться на Telegram-канал
Подписаться в Google News
Поддержать в Patreon
Quick Take
The Federal Emergency Management Agency operates a Disaster Recovery Center on Maui and has approved $7 million in assistance to thousands of wildfire survivors. Online videos, however, are sharing a fabricated tale about FEMA's operations, including a "shootout" with U.S. Marines. The bogus story originated on a satirical website.
Full Story
Following the deadly wildfires on the island of Maui that began on Aug. 8, President Joe Biden declared the fires a major disaster and enlisted federal agencies and the military in recovery efforts, as we've written. The number of deaths had reached 115 by Aug. 25 and hundreds of people remained missing.
On Aug. 16, the Federal Emergency Management Agency opened a Disaster Recovery Center at the University of Hawaii Maui College, where residents affected by the fires could apply for federal disaster assistance, contact volunteer organizations and get access to other government resources.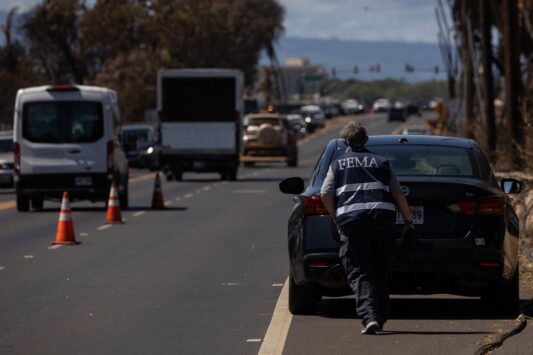 A Federal Emergency Management Agency worker is seen as search and recovery teams check charred buildings and cars in the aftermath of the Maui wildfires in Lahaina, Hawaii, on Aug. 18, 2023. Photo by Yuki Iwamura via Getty Images.
The Biden administration said that nearly 1,000 federal responders were in Hawaii as of Aug. 18 to help the fire victims. FEMA had given $7 million in assistance to more than 2,000 households by Aug. 21.
"Search and rescue teams remain on the ground to assist with efforts and are working diligently to ensure all properties are meticulously searched and any victims and personal property are handled with the utmost reverence and respect," an Aug. 18 FEMA release also said.
But videos on social media are sharing a fabricated, bizarre story about FEMA's activities on Maui.
A video posted on Facebook on Aug. 22 shows the headline, "Marines Neutralize Fleeing FEMA Convoy in Maui," as a woman reads passages from a purported news article.
"United States Marines on Friday 'neutralized' a FEMA convoy that fled fire-stricken Lahaina for Haleakalā National Park, a 33,000-acre wilderness and home to the state's highest peak, Mount Haleakalā, from where FEMA might have escaped had the Marines not downed a helicopter sent to rescue the federal brigands," the narrator reads.
"The chase began early Friday morning when a Marine platoon and FEMA had a shootout in the Maui Forest Reserve east of Lahaina Beach," she goes on to say. "Responding to intelligence reports, the Marines caught FEMA red-handed burying corpses in an earthen grave the feds had excavated with a backhoe."
In an Aug. 21 TikTok video shared on Instagram, headlined "US Marines VS FEMA, a man in a dark uniform reads a few lines from the same article. After reciting or summarizing parts of the article, the man adds, "So I'm not personally sure how true all of that really is."
None of it is true.
The article originated Aug. 20 on the website Real Raw News — a site that presents itself as a news source but includes a disclaimer that says, "Information on this website is for informational and educational and entertainment purposes. This website contains humor, parody, and satire. We have included this disclaimer for our protection, on the advice on legal counsel."
Despite the website's disclaimer, social media users often share its stories as if they are accurate reports.
We've written about other fabricated stories that have appeared on Real Raw News — and later shared as fact on social media — including misinformation about COVID-19 vaccines in Russia and in the U.S. military.
Responding to the recent posts about FEMA, agency spokesperson Jeremy Edwards told us in an email, "These claims are absolutely false. The Department of Defense is one of FEMA's strongest partners during disaster response and recovery efforts. We are currently working closely with service members in the response and recovery efforts for the Maui wildfires."
Edwards also noted that FEMA has created a webpage to address rumors and questions about the wildfires.